Vignette

November 19 - December 17 , 2021


Opening reception, November 19th 6-9pm at BRUCE, 628 W. College St, Los Angeles, CA 90012.

False Cast Gallery is pleased to announce Vignette, a goup show with Luz Carabaño, Julia Maiuri, Sarah Thibault, and Paige Turner-Uribe.
Vignette draws the viewer into subtle worlds and enveloping spaces. Biological and anatomical snapshots on atmospheric surfaces, pulsing with supple color and ambiguous moments.
Luz Carabaño
Luz Carabaño received her BFA in studio art from New York University in 2017, and is a 2022 MFA Painting candidate at the University of California, Los Angeles. Luz Carabaño's small scale works employ individually shaped supports enveloped by the surface as if risen from a primordial pool. Within these small spaces are vast cosmologies, and subtle fluctuations of tone.
Small Boom, 2021
4.5 x 6 in., oil on canvas


$1300
*, 2021
7 x 5 in., oil on canvas


$1400
Buds, 2021
8 x 6.75 in., oil on canvas


$1500
untitled, 2021
5.5 x 6 in., oil on canvas


$1350
Descalzos, 2021
10 x 7 in., oil on canvas


$1700
Julia Maiuri
Julia received her BFA from Wayne State University, Detroit, MI in 2013 and is a 2022 MFA candidate at the University of Minnesota, Minneapolis, MN. Julia Maiuri collapses time and dimensionality, looking into multiple realities simultaneously as if stacked or seen through. Tinged with apprehension and decay, stills from horror films snatched out of context.

Bloom, 2020
8 x 10 in., oil on canvas


$600
Caught II, 2021
8 x 10 in., oil on canvas


$600
Sarah Thibault
Sarah Thibault imbues floral imagery with a sense of active, rather than passive characterization. With work often exploring daily rituals, these flowers willingly offer themselves up as a gift for one's self.
Sarah Thibault's exhibition experience includes projects with the Berkeley Art Museum and Pacific Film Archive, Interface Gallery, HILDE Gallery, Steve Turner Contemporary, Mark Wolf Contemporary and ART in Embassies. Her work has been featured in The San Francisco Chronicle Datebook, Artsy, CARLA, San Francisco Magazine, SFAQ, The Examiner, The Huffington Post, and 7×7. She is the founder of the online publication Artists + Travel and a Charter Resident of the Minnesota Street Project studios since 2016. She holds an MFA from the California College of the Arts, a BFA from the San Francisco Art Institute and a BA from the University of Wisconsin- Madison.

Cat, 2021
12 x 9 in., oil on canvas

price upon request
Daffodils, 2021
12 x 9 in., oil on canvas

price upon request
Flowers, 2021
12 x 9 in., oil on canvas

price upon request
Daffodils II, 2021
10 x 8 in., oil on canvas

price upon request
Paige Turner-Uribe
Paige Turner-Uribe earned an MFA from the School of the Art Institute of Chicago and a BA in painting and printmaking from San Diego State University. She has recently shown with Fortnight Institute in NYC, Smoke the Moon in Santa Fe, Mindy Solomon Gallery in Miami, and the SPRING/BREAK Art Show with Jacob's West in Los Angeles. Paige's colors and surfaces are anchored in some other time or place, while depicting everyday objects and interactions. Figures confidently lost in thought, or objects at rest in anticipation of use; are held for an instant and released into the unknown by our eyes.
Ashtray with Pearl Earring, 2020
12 x 12 in., oil on canvas


$2000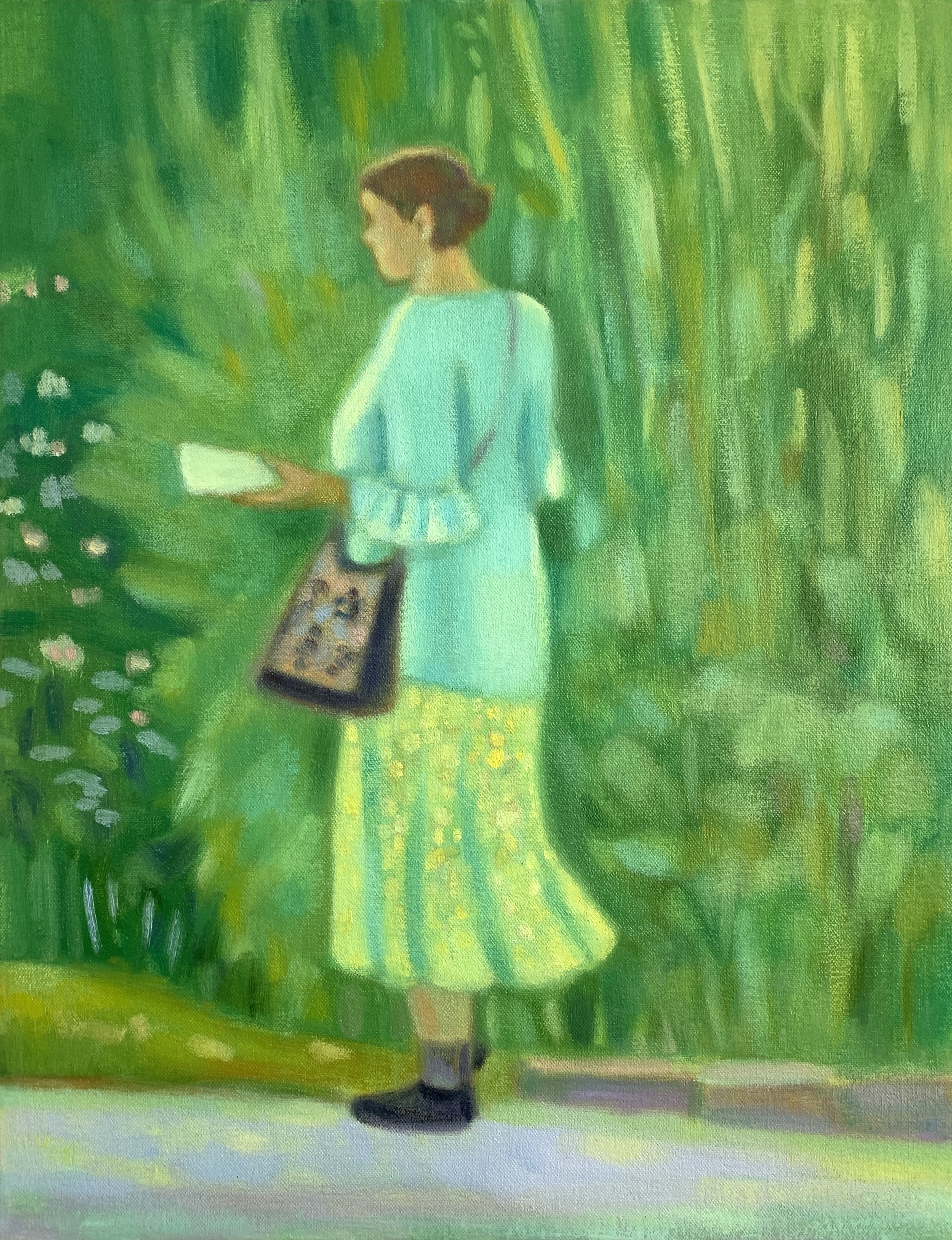 Harmony in Green, 2021
18 x 14 in., oil on canvas


$2200
Twilight Pink, 2021
18 x 15 in., oil on canvas

$2200
Send inquiries to info@falsecastsd.com